Best Gaming Phones to buy: Ranked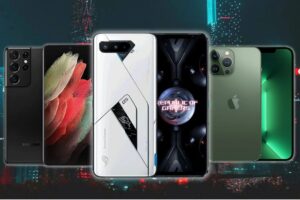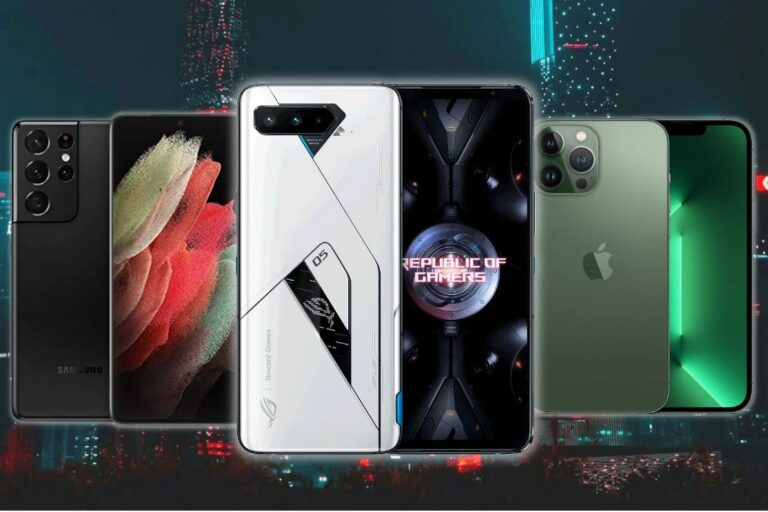 Gaming phones are the future of gaming. Nowadays most games come with the mobile version that can be played easily from anywhere but the problem is, it cannot be played smoothly or flawlessly on any phone. Sometimes there are too many glitches, maybe the phone is laggy, the battery life cannot support gaming, or the phone is hotter than the core of the Sun. To avoid these issues, a gaming fan must carefully choose his smartphone.
Though it's even more difficult to find which phone is good for you or which phone should you buy because gaming phone companies keep launching new gaming phones continuously and it's hard to choose the best for you. Questions like, 'how much ram is sufficient' or 'how fast does the screen rate should be or how much battery life is enough.'
How to choose the best Gaming phone
Well, that's why we are here to help you choose the best gaming phone for you so you can play as much as you like without a second thought. Now, remember, this list is divided into two catagories as are the 'Gamers'. Some phones are best for gaming purposes but lack in other fields like cameras, etc, and some flagships are relatively good in gaming but also good in other aspects. So you have to decide which list to choose from the Hardcore or the overall.
Best Gaming Phones: Hardcore gaming
1. Asus Rog Phone 6 and 6 Pro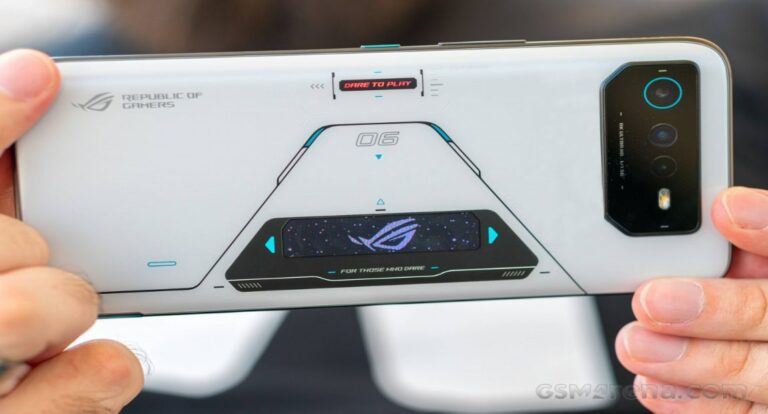 SPECIFICATIONS 
RAM:
18 GB           
Storage:
512GB
Rear camera:
50 MP(main) + 13 MP (ultra-wide) + 5 MP (Macro)
SPECIFICATIONS 
RAM:
8 GB/12 GB/16 GB               
Storage:
128GB/256GB/512GB
Rear camera:
50 MP(main) + 13 MP (ultra-wide) + 5 MP (Macro)
---
When we talk about mobile gaming, how can we ever ignore Asus ROG? This Asus ROG phone 6 Pro is currently the best gaming phone in the market. We have not included Asus ROG phone 6D ultimate as it has not been released globally. This phone comes with a Snapdragon 8+ Gen 1 fueling it the only difference is Rog 6 comes with 12/256GB while the 6 Pro comes with an 18/512GB option and the ROG 6 does not have an OLED display on the back.
Asus ROG 6 Pro can be said a 'Gaming beast' as it comes packed with high-tech design solely based on gamers. The phone comes with a 6.78″ display with up to 165Hz refresh rate which means you can play games like Genshin Impact on the best graphics available. The UI is very clean and neat. Then comes the battery life of 6000 mAh which comprises two 3000mAh batteries. It comes with a 30W charger but can support up to 65W which is sold separately.
The processor is very powerful and its unrivaled performance puts it in a class of its own, with the clock speed now boosted to a mind-blowing 3.2 GHz, with up to 15% better CPU performance and 20% more power efficiency on the CPU over the previous Snapdragon 888 on the ROG Phone 5.
The ROG phone 6 Pro also has some features that make it a gaming phone. You can also buy Aeroctive Cooler 6, sold separately, an AI-powered active cooling system, using a Peltier cooling element that provides additional surface cooling with a fan positioned exactly over the location of the system-on-a-chip (SoC). In other words, after using this gadget, your phone can get up to 25 C cooler so you can play heavy games without your phone getting hot. It also comes with 2 ultrasonic shoulder buttons which can be set for any gaming button you like.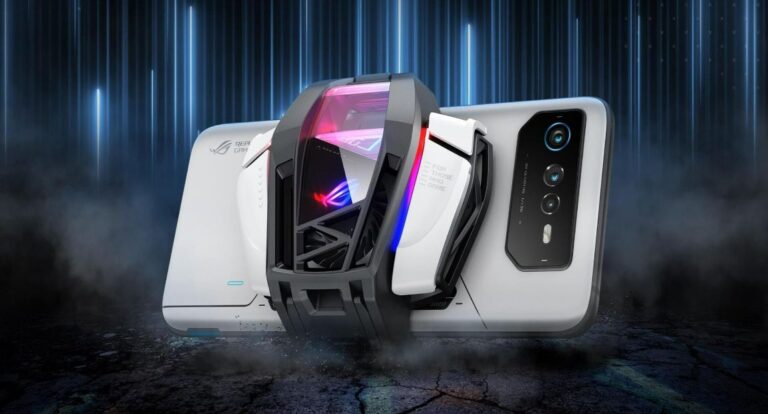 After configuring all devices and setting hundreds of options to personalize gaming, this phone is now ready for battles. This phone has so many cool features and options even the fan has 4 modes and this phone even has 2 charging ports to be used on users' choice. Also, this flagship still comes with a headphone jack which is a nice gesture of Asus. The speakers of this phone are another amazing thing as they are a piece of work.
This phone comes with a three-camera system. the Primary camera is a 50MP Sony camera. Then comes a 13MP ultrawide camera and a 5 MP Macro camera. the front camera is a 12MP camera. This phone can also record up to 4k videos @ 24fps which is kind of an achievement for a gaming phone. But the camera images are still not that great as the sole purpose of this phone is Gaming and Performance. Now the camera can be called good but not the best.
Conclusion
If you are a hardcore gamer or if you play too many games and want to buy a phone that supports gaming in every way, this phone is for you. But if you want other side features like a good camera, then this phone is not useful for you as Asus has only focused on performance on this phone. This phone is just a gamers paradise.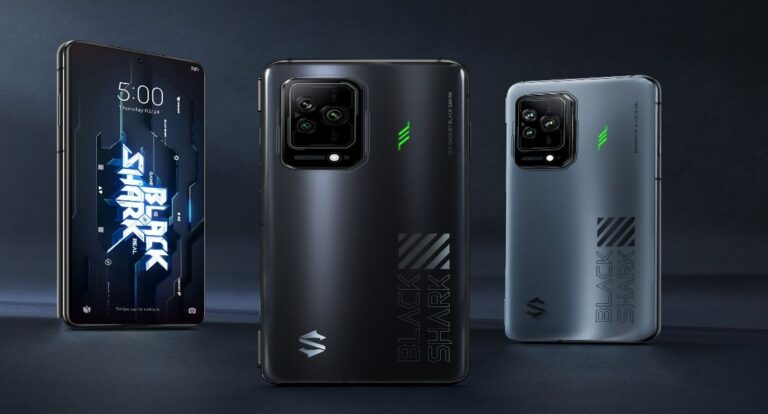 SPECIFICATIONS
RAM:
8GB/12GB/16GB                       
Storage:
128GB/256GB/512GB
Rear camera: 108MP (primary) + 13MP  + 5MP (telephoto)

---
The Black Shark 5 Pro is a gaming smartphone that has gained popularity due to its impressive specs and features. It has a 6.67-inch display and a weight of 220 grams and is available in "stellar black" or "nebula white" color options. The back of the phone is made of glass with a matte finish and it has a metal frame, but it does not have Gorilla Glass protection. It comes with a pre-installed screen protector and has a fingerprint sensor built into the power button on the right edge of the phone.
Black Shark 5 Pro also gets the optional cooling system sold separately. The phone can be purchased with a separate cooler that helps to keep the device from overheating during extended gaming sessions. This is especially useful for those who engage in resource-intensive gaming or multitasking but this is not as powerful as the Aeroactive cooler offered by Asus.
The Black Shark 5 Pro runs on the Joy UI 13 launcher, which is based on MIUI 13 and offers a variety of customization options and themes. It also has a "Shark Space" UI that can be activated with a quick swipe and provides access to gaming tools and features. In terms of performance, the phone is powered by a Qualcomm Snapdragon 8 Gen 1 processor and comes with up to 16 GB of RAM and 256 GB of storage.
The Black Shark 5 Pro has a triple camera setup on the back, consisting of a 108 MP main camera, a 13 MP ultra-wide camera, and a 5 MP telephoto. It also has a 16 MP front-facing camera. The phone is equipped with a 4,650 mAh battery that supports 120-watt fast charging which can charge the beast in just 15 minutes. Wireless charging is not available but a special feature called 'bypass the power supply' through which you can play games while using charging the phone and the battery will remain constant.
The audio of this phone is out of the world as it again came 1st in the DXOMARK ranking and among the gaming phones, this is the only one that cut out bezels as usually these phones have speakers there but this phone has very tiny bezels with a punch hole camera in the top-center.
Conclusion
Overall, the Black Shark 5 Pro is a powerful gaming smartphone that offers impressive specs and features. Its optional cooling system and Joy UI 13 launcher and "Shark Space" UI provide a smooth and customizable gaming experience, and its triple camera setup and fast-charging battery make it a reliable choice for both gaming and everyday use but I would suggest it only for gaming purpose as for everyday use, you can get better options at a cheaper price.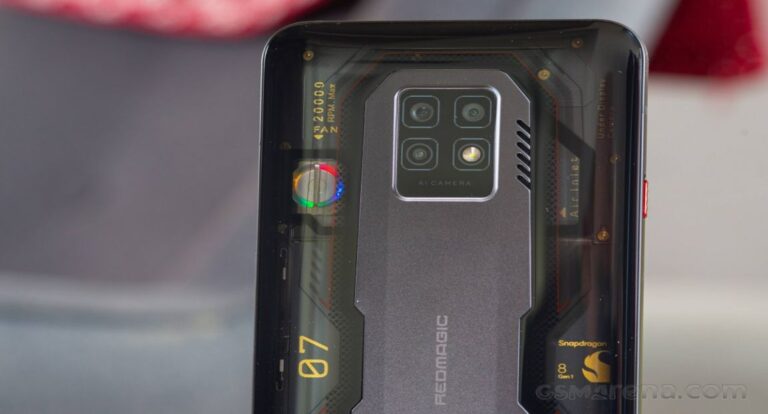 SPECIFICATIONS
RAM:
8GB/12GB/16GB/18GB           
Storage:
128GB/256GB/512GB
CPU: 
Snapdragon 8 Plus Gen 1
Rear camera: 64MP (primary) + 8MP  + 2MP

---
The Nubia Red Magic 7S is a gaming smartphone that offers a range of impressive specs and features. Its 6.8-inch AMOLED display has a Full HD+ resolution, a pixel density of 387 PPI, and a high refresh rate of 120Hz, making it ideal for fast-paced gaming. The screen is also protected by Corning Gorilla Glass 5 and has a high brightness of 600 nits, but when checked, it's not as bright as expected from a gaming phone.
The Nubia Red Magic 7S runs on the Android 12 operating system with the Redmagic 5.5 interface, which provides a smooth and customizable gaming experience. It is powered by the Qualcomm Snapdragon 8+ Gen 1 processor, which offers fast and efficient performance as it is the most advanced android processor. The phone comes in a variety of storage and RAM options, including 256 GB with 12 GB RAM, 512 GB with 16 GB RAM, 512 GB with 18 GB RAM, and 1 TB with 18 GB RAM. All options come with UFS 3.1 storage, which provides fast read and writes speeds.
The Nubia Red Magic 7S has a triple camera setup on the back, consisting of a 64 MP main camera, an 8 MP ultra-wide camera, and a 2 MP macro camera. The main camera has a wide aperture of f/1.8 and PDAF for clear and detailed photos. The phone is also capable of recording 8K video at 30 fps and 4K video at 30/60 fps.
On the front, there is a 16 MP selfie camera that is an under-display camera. Let me tell you one thing about thing phone's camera, it's very bad. I mean if you like to take selfies, then run from this phone while the photos from the rear camera are barely satisfying but still a lot better than selfies.
The gaming phone has a large 5000 mAh battery that supports fast charging of up to 135W in China and 65W internationally. It also comes with a cooler to be sold separately if you look at the back, this phone has a fan that can be seen and though it does make some sound, it keeps the phone from getting hot. It works fine and this phone also has two shoulder buttons for gamers. One more thing I hate about this phone is even after spending that amount of money on this flagship category phone. It still shows ads that are really beneath the price it asks for.
Conclusion
Overall, the Nubia Red Magic 7S is a powerful and feature-rich gaming smartphone that is suitable for gaming. Its high-quality display, fast processor, ample RAM, and large storage capacity make it a reliable choice for those who need a smartphone that's made for gaming but for any other use, I won't recommend it.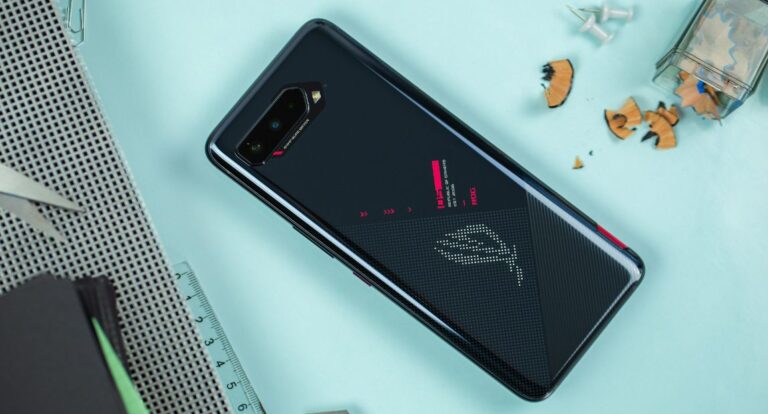 SPECIFICATIONS
RAM:
8
GB/12GB/16GB           
Storage: 
128GB/256GB
Rear camera: 64MP(main) + 13MP  + 5MP 

---
Anyone who thinks Asus ROG phone 5 is outdated has never really had a mobile gaming experience with this phone. Even after its successor is ruling the list, this beast still comes in the list of phones best for gaming. This gaming phone comes with a Snapdragon 888 chipset at its core which was the fastest chip at the time of its launch. With Adreno 660 graphics card and up to 12 GB LPDDR5 (fastest ram) and 512 GB options, this phone is a killer alternative and the perfect value for money.
The Asus ROG phone 5 with a 6.78″ sAMOLED display by Samsung which is the same display as in ROG 6 Pro. The maximum refresh rate is 144 Hz which is still more than many latest gaming phones tend to have now. The 24.3ms touch latency and Delta E>1 color accuracy shows how great gaming can be. Asus also uses multi-level processor cooling for the best heat dissipation possible.
Asus ROG Phone 5 also comes with the same battery setup as the 6 series, that is two 3000 mAh batteries which give this phone a solid battery life. The phone comes with two USB-C ports, one at the bottom and one at the side. The phone comes with a 30W charger but the phone can support up to 65W charger and as far as we have tested, the battery life is pretty reliable and supports long gaming sessions.
ROG phones design their phone in a way that the processor is placed in the center. This is because of the heat factor that all gaming phones need to overcome. The chip placed in the center can dissipate heat in all directions. The second reason is the ROG accessories that you can buy separately and that get connected on the center on the backside. This includes the Aeroactive Cooler 5 which does not just cool the phone but also adds two more buttons for those who need them. The cooler can lower the surface temperature by 15 degrees which is quite good.
Now comes the camera system where every gaming phone struggles. This phone also comes with a triple-camera system. The primary camera is a 64 MP Sony IMX686 sensor with f 1.8 aperture. Then there is a 13 MP Ultra-wide camera and a 5 MP Macro camera. The front camera is a 24 MP camera. This phone can record up to 8k videos at 30fps and 4K at 60 and 30fps. The camera results are satisfactory when seen as a gaming phone. This gaming device can take photos is needed that maybe not looks too beautiful but are satisfactory.
Conclusion
Overall this gaming phone is the best option when it comes to value for money device. Looking at the price and then the features available, I can say that this phone can be used as a daily driver but for only those who love gaming. The thing is these phones are useless for those who are not gamers as they can get a lot of phones with outstanding features but not the gaming experience these phones provide.
---
Now the phones mentioned below are not gaming phones but the overall flagship phones can are the best in every aspect and also in gaming performance the difference is the price as these phones are the overall kings.
5. Apple iPhone 14 Pro and Pro Max
SPECIFICATIONS
Screen size: 
6.1-inch / 6.7-inch            
RAM: 
6
GB            
Storage: 
128GB/256GB/512GB/1TB
Battery: 
3,200mAh / 4,323mAh
Rear camera: 
48MP(main) + 12MP (telephoto, 2x) + 12MP (ultra-wide)
---
When we talk about performance, Apple always steals the show. With the A16 bionic, Apple 14 Pro and Pro Max give an immense performance which is such beautiful to even watch. The power-efficient performance of 16 billion transistors carrying out gaming, is next-level. This phone is packed with all the features and that's why it's our top choice here.
It comes with a Super retina XDR display which is very beautiful and has perfect colors. The screen is said to be the brightest display in the world beating the previous Samsung Galaxy S22 Ultra. Apple has also improved its battery life which now is on par with the best phones as the processor is also battery efficient. The Pro max though has a bigger battery its bigger size.
The list does not stop here as this is not just another gaming phone but a complete allrounder. So the camera of this phone is one of the best phone cameras in the world. It's not called Pro for no reason, right? The three-camera setup is outstanding and takes mesmerizing images while the videography is even better. The primary camera is upgraded to a 48 MP quad-pixel sensor. Then there is a 12 MP telephoto lens and a 12 MP ultra-wide lens.
6. Samsung Galaxy S22 Ultra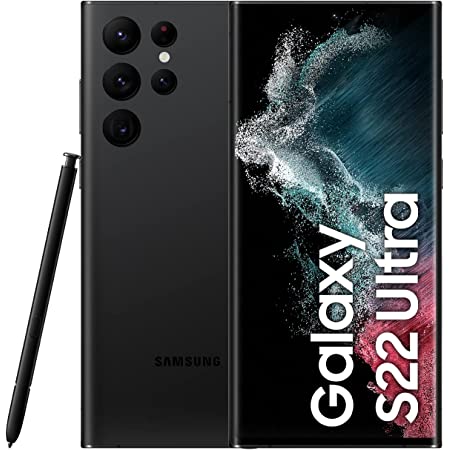 SPECIFICATIONS
Screen size: 
6.8-inch                   
Resolution: 
1440 x 3088
RAM: 
8GB / 12GB                         
Storage: 
128GB/256GB
CPU: 
Snapdragon 8 Gen 1 /  
Exynos 2200
Rear camera: 
108MP (wide) + 10MP (periscope, 10x optical) + 10MP (telephoto, 3x optical) + 12MP (ultra-wide)
Front camera: 
40MP (wide angle)
---
Now comes the competitor of the iPhone 14 Pro and the android king. Samsung Galaxy S 22 Ultra is another great overall phone. The S22 Ultra offers no less than five cameras, a huge, bright 6.8-inch OLED with up to 120Hz refresh rate, and, oh yeah, a built-in stylus too.
This masterpiece combines the Snapdragon 8 Gen 1 CPU with 8 or 12GB of RAM. Not unexpectedly, performance is great; even when running graphics-intensive games, the phone runs smoothly without any stutter though it does get warm sometimes. Samsung also promises up to four generations of OS version upgrades, so the Ultra should continue to be a very good phone for many years.
The Galaxy S22 Ultra features a quad-camera configuration with 100X digital zoom. Regardless of the lighting conditions, the phone takes stunning images. The phone can take decent photos in low light even without night mode. The primary camera can record video in 8K resolution and is stabilized.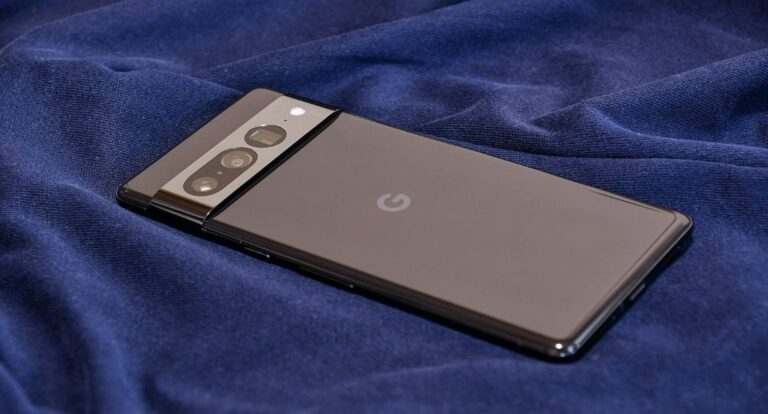 SPECIFICATIONS
RAM:
 12GB                         
Storage: 
128GB/256GB/512GB
Rear camera: 
50MP (primary) + 48MP (telephoto) + 12MP (ultra-wide)
---
Google's Pixel 7 is a high-end Android smartphone that offers a range of advanced features and performance at a lower price than its competitors. The phone is powered by a Google Tensor G2 processor, which offers smooth and responsive performance and improved support for on-device machine learning.
Pixel 7 comes with Android 13 which is the latest OS of Google with all the latest android software. In comparison to earlier Android versions, Android 13 includes several new features and updates, security upgrades, and several smaller upgrades. Additionally, the Pixel 7 includes some unique features like a free Google VPN and Magic Eraser. This might be the only smartphone out there that comes with its built-in VPN, so cool right? To be honest, Pixel has always been quite easy to use cellphones as they don't add nonsense features and options to make a phone more complicated like many Chinese manufacturers.
 This Google Pixel Phone comes with a beautiful 6.7-inch display with not many bezels. The screen has a high brightness, which makes it easy to read in bright sunlight, and it offers excellent contrast with deep blacks. The screen offers a 90Hz refresh rate which is essential in this price range. The Pixel 7's screen is one of the best you'll find on an Android phone, and it is comparable to the screens on Samsung's top-end flagship phones. This phone can also be said among the best android phones available in the market.
This phone can also be your next daily life driver as well as your gaming phone to play with. The Tensor G2 is a powerful chip and can easily support gaming as long as you want. As a Google phone, you will not get a proper game mode like others but you can do some changes in the settings like 'DND' and your Game dashboard and you would be good to go.
Which is the right gaming phone for you?
---
As I tell you every time, what fulfills our need is the right thing for us. Same works here. In case you are a hardcore gamer, you should select from the upper list of pure gaming phones and if you have no budget issues, Asus Rog Phone 6 Pro will be the best choice for you. If not then you might explore other options to find out what will suit your needs.
If you like gaming and playing games for an hour daily or like only when you are free, trust me you are not a gamer. And at this time, the gaming phone is not the right choice for you so even if you have enough budget, explore some other lists or choose from the lower list as it will be way lot beneficial for you in long term.
Subscribe to our newsletter